18
April, 2020 Saturday
09:00
Open Training
Balanced Score Card and KPI Fundamentals
Pause Factory
Lagos, 19, Town Planning Way, Airtel Bus Stop, Ilupeju | Inquiry Call 08096303933
Over View
While there is a lot of awareness on Key 🗝 Performance Indicators as a core part of Performance Management, the Balance Score Card 🗃 KPI Essentials training course is designed to support you in developing key competencies in performance management with the aim of improving processes such as KPI selection, KPI documentation 📄, KPI data gathering and reporting.
During the day of training, you will become familiar with the most important tools 🧰 and techniques in working with KPIs and you will learn how to build a performance management culture.

Module 1:  Introduction to Performance Management?
What is Performance Management?
Employee Life Cycle
Formal vs Informal Performance Appraisal
Key Performance Indicators
Module 2: Your Role In Performance Management
The Performance Management Creed
Skills for Managing Performance
Stakeholder's role in Performance Management
Module 3: Performance Management Cycle
3A: Performance Planning
Setting Performance Objectives
Setting Performance Target
Communicating Performance
Expectations
3B:Performance Monitoring Observation
Tracking
Checklist
Reporting
Work Review
3C: Performance Review
Performance Review Meeting
Performance Appraisal
Giving Effective Performance Feedback
Rewarding Performance
Module 4: Using Emotional Intelligence Competencies in Performance Management
Module 5. Coaching for Performance Management
Power of Rapport
Questioning Skills
Listening Skills
Observation Skills
THE G.R.O.W. Model
Module 6: Performance Improvement Plan
With this training, participants will be able to:
👉Identify how to set workable performance Objectives.
👉Deliver honest, ongoing, ethical and fair reviews.
👉Recognize the importance of their role in improving organizational performance.
👉Identify and begin to use different potent performance monitoring strategies
👉Distinguish between Performance Management and Performance Appraisal.
👉Explain effective performance review that enhances performance.
👉Develop powerful performance feed-back strategies.
👉Discern the intricacies of Coaching and how to use it on a daily basis.
👉Discover how to use the GROW Model to improve performance of subordinates.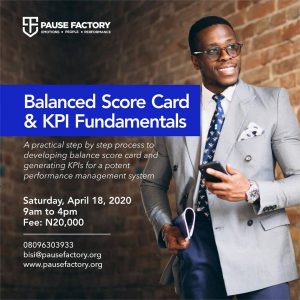 Designed For?
Leaders at any level saddled with the responsibility of managing and improving employee performance
Duration:
18th April, 2020 | 9am – 4pm
Training Fee:
₦ 20,000 Per Participant